Ten Years of Hallelujah The Hills
Sept. 8, 2015

The following features a rich harvest of information, but here's your TL;DR: We've been a band for ten years, new album this spring, pre-orders are heavily rewarded, there is a book being written about the band making this album, the author wants to talk to fans at November live shows.
OK? Let's break that down.
We're recording a new album this fall. It's called Deluxer Mandatory. You can check out the track listing and the album cover below. I could describe what it sounds like, but has a band ever done that in a way that you found satisfying? Is it different from other albums but still somehow classically Hallelujah-The-Hills-esque? Yes, but music is ear stuff! You'll need to understand it with your ears!
The Great Democratized Pre-Order!
For the past two albums we've covered recording and production costs with Kickstarters, and it's been a small miracle for a band like us. But we also noticed that people who had more to spend got the more exclusive items, which is just the way things sometimes work, but not for this album, we've decided. We believe we can cover all recording/production costs just via regular ol' pre-sales. Until November 4th, anyone who pre-orders the album in any format will be entered into a raffle with individual prizes that have been valued up to $500. We'll host a live-streamed raffle drawing in the spring where we'll draw the winners and your prize will accompany your brand new HTH album. If just a fraction of fans who have bought an HTH album in the past decide to pre-order, this gamble will pay off. Let's try it out! PRE-ORDER NOW!
All pre-orders automatically get:
Your name in the liner notes
Early access to the album
Early access to a chapter of the book
Raffle Prizes:
Two (2) test pressings of "Have You Ever Done Something Evil?" vinyl with original one of a kind collage on the front cover
Two (2) test pressings of "Deluxer Mandatory" vinyl with original one of a kind collage on the front cover
Five (5) signed copies of M. Jonathan Lee's book about the making of "Deluxer Mandatory"
The actual mask worn by "Bear Boy" in the video for "We Are What We Say We Are"
The original collage constructed for the cover of "Have You Ever Done Something Evil?"
Handwritten lyrics to any HTH song (3)
Acoustic show via Skype (3)
4 guestlist spots (use 1 ticket four times or four tickets 1 time, we don't care!) any show, any city, never expires
The Mystery USB Stick – what's on this? None of your f'ing business yet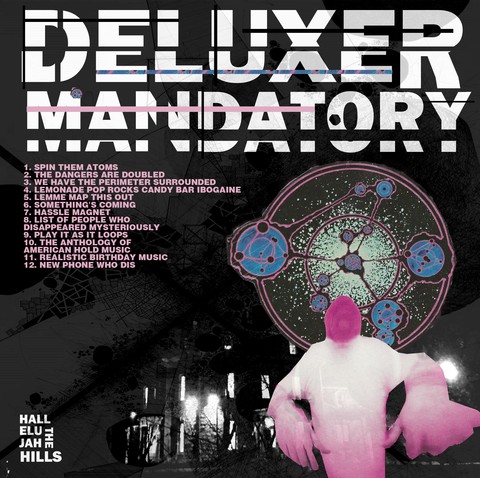 Deluxer Mandatory by Hallelujah The Hills:
Spin Them Atoms
The Dangers Are Doubled
We Have The Perimeter Surrounded
Lemonade Pop Rocks Candy Bar Ibogaine
Lemme Map This Out
Something's Coming
Hassle Magnet
List Of People Who Disappeared Mysteriously
Play It As It Loops
The Anthology Of American Hold Music
Realistic Birthday Music
New Phone Who Dis
To be recorded at 1809 Studios, Macedon, NY. Vinyl to be pressed by Re-Vinyl Records.
The Book
When we go to record the album this fall, we're giving UK author M. Jonathan Lee complete access to the band and the recording process. Since we feel like we're not a band who is "winding down their career," which is when you might normally see a book like this come out, we found Mr. Lee's idea of a book that captures us making this album and how we got here to be an interesting premise. Think of it like a documentary on paper. Here's the author in his own words:
A year or so into becoming a fan of Hallelujah The Hills, I got into dialogue with Ryan Walsh over using some of the band's lyrics in my second novel. From there we had numerous conversations and the idea came about to write a non-fiction piece about the new album they were planning on recording in November 2015, tentatively titled Deluxer Mandatory. I am really interested in how it is that five people work together in a room recording music on that particular day, at that moment in time. Thus, the book begins with the opening of the sessions but ultimately leads backward through time analyzing the choices each member made to ultimately lead to them writing, playing and recording Deluxer Mandatory. As much a biography as a journey, I want it to appeal to any music fan whether they are aware of HTH or not. The title? TBA. Get Me In A Room.
Mr. Lee will be at both of the shows listed below, and he is interested in talking to fans (and enemies) of the band. We hope you'll get a chance to speak with him! The book will be published by Solopreneur Publishing based in West Yorkshire, UK. Lastly, yes, we told him multiple times we are not famous.
The Live Shows
On sale now!
Friday November 13 @ Cuisine en Locale, Somerville, MA w/ Landlady, Eternals. TIX
Saturday November 14 @ Bowery Electric, New York, NY w/ Wilder Maker, Jason Heath & The Greedy Souls. TIX
Our album release show in the spring will take place in Boston, likely a two night celebration with several former band members joining us on stage to salute the discography.
To make a long story short: we're in a great mood, we love making music, and we're about to make more of it. Thank you for listening and doing this with us, friends!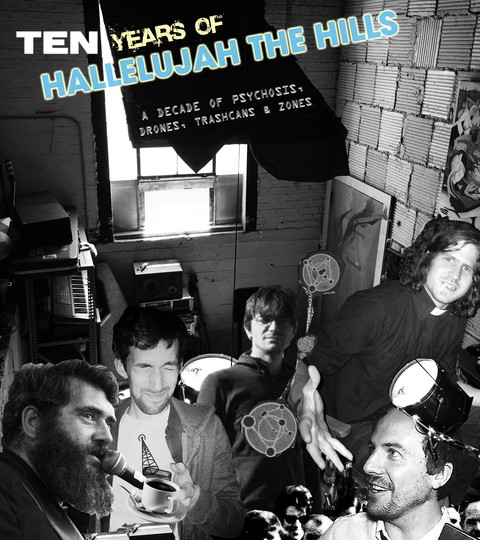 Best,
Brian, Joe, Nick, Ryan, and Ryan